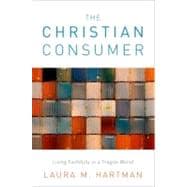 Free Shipping on all Orders Over $35!*

*excludes Marketplace items.
Usually Ships in 5-7 Business Days
Usually Ships in 24-48 Hours
Online: 180 Days access
Downloadable: 180 Days
Online: 365 Days access
Downloadable: 365 Days
Online: 1460 Days access
Downloadable: 1460 Days
Online: 1460 Days access
Downloadable: Lifetime Access
This item is being sold by an Individual Seller and will not ship from the Online Bookstore's warehouse. The Seller must confirm the order within two business days. If the Seller refuses to sell or fails to confirm within this time frame, then the order is cancelled.
Please be sure to read the Description offered by the Seller.
Summary
Be it fair trade coffee or foreign oil, our choices as consumers affect the well-being of humans around the globe, not to mention the natural world and of course ourselves. Consumption is a serious ethical issue, and Christian writers throughout history have weighed in, discussing topics such as affluence and poverty, greed and gluttony, and proper stewardship of resources. These voices are often at odds, however. In this book, Laura M. Hartman formulates a coherent Christian ethic of consumption, imposing order on the debate by dividing it into four imperatives: Christians are to consume in ways that avoid sin, embrace creation, love one's neighbor, and envision the future. An adequate ethics of consumption, she argues, must include all four considerations as tools for discernment, even when they seem to contradict one another. The book includes discussions of Christian practices such as fasting, gratitude, solidarity, gift-giving, Sabbath-keeping, and the Eucharist. Using exemplars from the Christian tradition and practical examples from everyday life, The Christian Consumeroffers a thoughtful guide to ethical consumption.
Author Biography

Laura M. Hartman is Assistant Professor of Religion at Augustana College in Rock Island, Illinois.

Table of Contents
Acknowledgments
p. xi
Introduction: Consumption Matters
p. 3
Consumerism Distinguished from Consumption
p. 5
Consumption: Beyond Sociology
p. 9
Refining the Definition
p. 11
The Moral Import of Consumption
p. 16
Four Considerations
p. 21
Methods, Perspective, and Audience
p. 25
To Avoid Sin
p. 30
Consumption Practices of Francis, Woolman, and Sider
p. 33
Asceticism, Poverty, and Simplicity
p. 36
Complicity in Consumption
p. 42
The Economy of Avoiding Sin
p. 45
The Importance of Avoiding Sin in Consumption
p. 49
To Embrace Creation
p. 54
The Earth Is Fruitful and Blessings Abound
p. 55
Human Hungers Are Not Sinful
p. 59
We Should Consume with Gratitude, Savoring, and Sharing
p. 61
Wealth May Be Virtuous
p. 63
We Are God's Beloved Children
p. 66
Good Stewardship of Blessings
p. 70
Consumption and Creation
p. 81
To Love the Neighbor
p. 84
What Is Love?
p. 86
Love of Self
p. 89
Love of Close Others
p. 93
Love of Somewhat Distant Others
p. 96
Love of Place
p. 110
Love of Faraway Others
p. 114
Love of God
p. 123
Envisioning a Better Life for All Neighbors
p. 126
To Envision the Future
p. 128
Sabbath Keeping
p. 130
Who Observes the Sabbath?
p. 132
What Does Sabbath Keeping Entail?
p. 135
How Observing a Sabbath Affects Consumption
p. 141
Eucharist
p. 152
What It Means to Take the Eucharist
p. 153
What Makes the Eucharist Eschatological?
p. 159
What the Eucharist Teaches about Consumption
p. 160
Beyond Bread and Wine
p. 164
Sabbath, Eucharist, and Visions of the Future
p. 167
Conclusion: Considered Consumption
p. 169
Four Considerations
p. 170
Considerations Working Together: Three Contemporary Authors
p. 172
An Ethics of Discernment
p. 181
Some Examples: Transportation and Meat
p. 184
Consumerism Revisited
p. 192
Notes
p. 195
Index
p. 235
Table of Contents provided by Ingram. All Rights Reserved.
An electronic version of this book is available through VitalSource.
This book is viewable on PC, Mac, iPhone, iPad, iPod Touch, and most smartphones.
By purchasing, you will be able to view this book online, as well as download it, for the chosen number of days.
A downloadable version of this book is available through the eCampus Reader or compatible Adobe readers.
Applications are available on iOS, Android, PC, Mac, and Windows Mobile platforms.
Please view the compatibility matrix prior to purchase.